At last one weekend free of work... what a #### of last month... Let's continue here:
Following the list done:
Cleveland (OH)
Ceasars Palace (LV)
Long Beach (CAL)
Meadowlands (NY)
Tamiami Park (MIA)
Toronto (ONT)
Detroit (DET)
Vancouver (COL)
Denver (DNV)
Detroit Belle Isle (DET)
Next stop is one of the most popular ones:
Surfers Paradise
In the wave of expansion of the CART series, Ron Dickson, president of D3 Motorsport Development and holder of CART rights during the 80's, establish a GP circuit on Queensland, after a brief meeting between the State Premier and the prominet businessmen on the area. With preliminary work done from 1988, the circuit was first used in 1991 as CART's season opener.

With a circuit construction acclaimed internationally during the period, the lay out essentially offered a series of long straights interrupted by chicanes, with some left corners to join sections, the Gold Coast Highway and the Main Beach Parade/Esplanade. Exceedingly fast, risky and with close proximity to the concrete barriers, it was one of the most "prone to incidents" circuits of the series. Apart from racing to the limit, safety was one of the concerns in the last years, with the installation of double height debris fencing an additional panels in high impact areas from 2005. Unfortunately, Christian Fittipaldi had not this advantages in the 90's when he broke his leg here in 1997...
The ChampCar / IRL fusion condemn this iconical circuit of Australia to other series (Touring Car and A1 Grand Prix), stealing its charm and exciting races from the Indycar calendar.
The circuit: Surfers Paradise, Queensland
Aerial view (maybe not CART/ChampCar years I think)
1991-1994 - 2.794 miles
Motorsport


1995-2009 - 2.795 miles. Chicane on Main Beach Parade modified
Motorsport


The start of the race with Dario Franchitti​​​​​​​ (1998, 1999)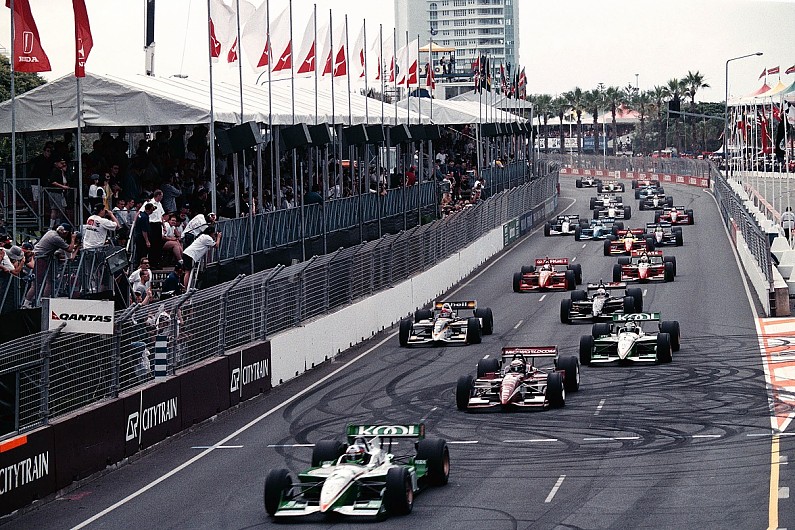 The chicanes and some "privilege" observers
Another "ritual" of the circuit... going airborne