The Speedway Motors Museum of American Speed (a.k.a. "The Smith Collection") has a special section for Indy 500 stuff. Several engines are displayed within it. While researching an
article
about the collection, I became confused about whether two of the engines on display ever actually made it to Indianapolis. What's their story?
Feuling Oldsmobile V8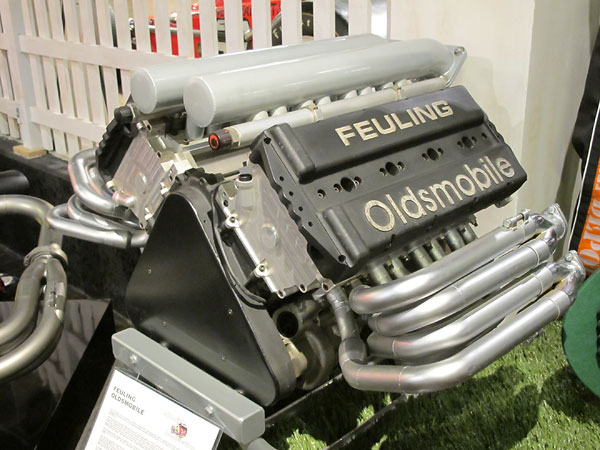 I believe this is a Cosworth DFX engine with different cylinder heads and ancillaries bolted onto it. I didn't find any evidence that this engine raced in the Indy 500, but perhaps it participated in qualifying. Are either or both of these cylinder head castings common with those used on an Oldsmobile Quad 4 (passenger car) engine? What else can you tell me about this engine?
Is this really a Mercedes 500i engine?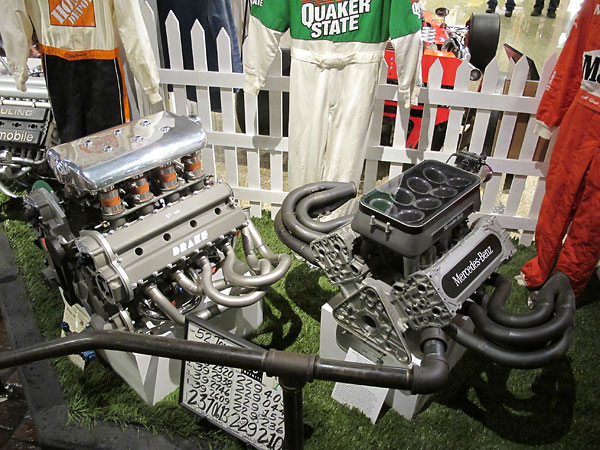 Don't look at the valve covers, look instead at the casting ribs. The closer I studied my photo, the more I began to question whether they match "500i" engine photos I found elsewhere. But... "If it's not a 500i, what is it?" What do you think? Could this be some sort of prototype, rather than the finished version which dominated the 1994 Indy 500?
Bonus questions: I have a personal interest in Buick's "215" aluminum V8. Where can I go to find good clear photos of the Buick-based engine Mickey Thompson and Dan Gurney used in the 1962 Indy 500? I know Thompson's team designed and cast some of their own parts - e.g. timing covers - but did they modify/use production cylinder heads? How radical was their "production based" engine?